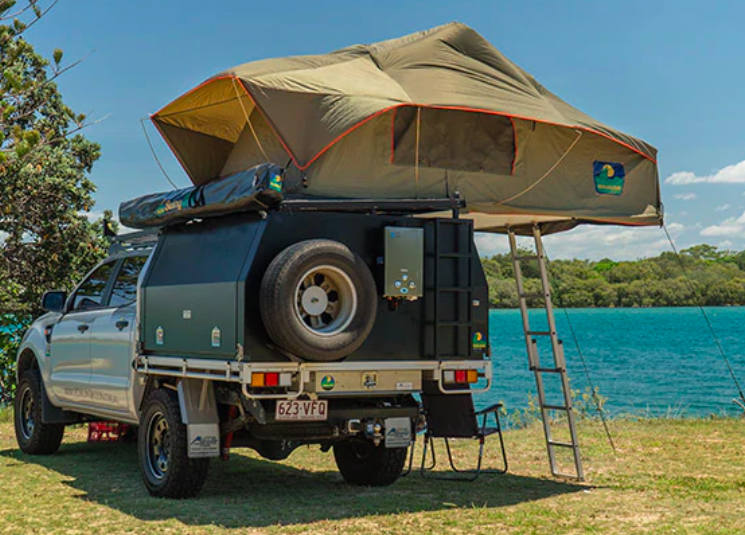 The Stargazer the fly is designed to allow more air to circulate between the fly and the tent. It also has two additional windows on the roof, that can be left opened or closed making it the coolest tent on the market.
For the big sweater/avid bird watcher or romantic the fly can be removed to view the stars. This is the choice of many hunters, photographers and safari companies.
TENT HIGHLIGHTS
The Canvas is military spec 380gsm/sqm with a perfect blend of cotton and polyester which offers stronger, superior thermal properties over traditional canvases. It is also Fluorocarbon impregnated for protection against dirt and water ingress through the seams and also prevents wetting through the fabric but most importantly still allowing the canvas to breath. An additional anti-fungal treatment is used to withstand UV and weathering. All seams are double stitched for added protection. Durability and strength of the canvas will actually improve over time which is why so many of our earliest tents are still being used today.
The base is made from a lightweight Aluminum extrusion construction offering "super light, super strong base with thermal and retention qualities", which will not bend or warp over time like checker plate, plastic or wood.
Heavy duty YKK Zips, ventilated and insect screened windows that allow to be opened if it is raining.
Infinitely superior ladder in the market with foot friendly, non slip rungs rated to 140kgs.
Large aperture windows with gauze designed and tested to allow for the best ventilation while still keeping those pesky sand flies out.
Another unique feature is the rear window above the ladder which helps with cross ventilation through the tent .
Flysheet made from durable nylon is designed to allow optimum air flow and folds up with the tent.
The 75mm thick high density one piece foam mattress come standard and is rolled rather than creased when closed. It is a standout amongst rivals.
The exceptionally strong PVC cover with additional UV stabilizers and welded seams offer 100% water and dust proofing.
Superior components used throughout the tent. Anodized aluminum or stainless steel. No compromise!
Sufficient space for bedding when tent is folded. (Pillow and sleeping bag, excl. duck down and dress pillows)
Unique bungee cord system designed to assist in packing up of tent and withstanding heavy winds.
Ventilated space between flysheet and main body eliminates condensation.
OPTIONAL EXTENSION
The optional extension can be added to provide an additional living room/kids to sleep/change room or shower room. The extension has two side doors, front door with an awning and a rear door for easy access. The extension can easily be zipped on (less than 1 minute) and the PVC floor can be unzipped allowing easy cleaning. The extension comes in nylon and ripstop but most find the nylon more than adequate. Ideal height for extension is between 185cm – 215cm.